Taking the Mystery Out of Color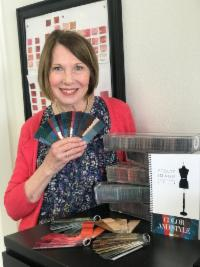 Elaine Stoltz's expertise
Do you wear black and/or white clothing most of the time because you have no idea what other colors look good on you? Do you ever wonder what colors look best on you? You are not alone. Many women who come for a Color Analysis fall into one of two categories: 1. They only wear black and white or 2. They wear all colors with no thought as to what is flattering on them. Do you ever wonder if your skin tone is cool or warm? Have you ever compared your skin to a friend's and noticed your skin has more of a yellow undertone and their skin has more of a pink or lilac shade? It's amazing how certain colors complement our individual skin tones.
You have a unique coloring, so it's important to work with your natural coloring instead of fighting against it. When you wear your BEST colors, you work with your coloring to accentuate the positives, further enhancing your own beauty. You are beautiful, so strive to look your best every single day!
If you are curious about what your best personal colors are, come to the studio for a Custom Color Analysis. I, Elaine Stoltz, will select your personalized colors based on a color system designed by me. I will select your very best colors from a color palette of over 1,000 swatches. You will leave the consultation knowing how to shop using your colors. Plus, you will find out your best neutral color such as black, brown, grey, or tan. I will suggest your best color for shoes, belts, metallics, and accessories. All your colors will be displayed in a custom fabric color fan created just for you. Using this color fan when you shop will make shopping a breeze by virtually eliminating over 75% of all the clothing in a store, just by sticking to the colors that look BEST on you!
In addition, during a women's Color Analysis, I will create a "custom blend" foundation to precisely match your skin tone. No more makeup lines on your neck! Your foundation will match your skin perfectly! I will also give you a cosmetic makeover, so you know the perfect lipstick and blush colors. Do you have a drawer full of the wrong lipstick colors? No more!
Let me take the mystery out of color. Schedule your Custom Color Analysis before you go shopping for fall clothes, and be empowered with the knowledge of your best colors. I am scheduling appointments from mid-August into September now. Make your appointment today. Call 817-924-8300.