What Does a Toner do for your face?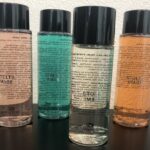 Facial toners have been around for many years, but don't get the appreciated accolades they deserve. There are many benefits to a skin toner if you use the appropriate one. Once you find the best one for you, you'll notice a refreshing difference in the tone and overall health of your skin. It should be the final step in cleaning your skin of grease, grime, and dirt. ADDING A TONER HAS THE FOLLOWING BENEFITS FOR YOUR SKIN:
Restores the pH balance of your skin after cleansing.
Helps remove excess oil, preventing blemishes.
Cleanses skin and refines and shrinks pores.
Evens out your skin tone.
Removes traces of makeup and debris.
Protects your skin from harmful environmental impurities.
Helps repair and soothe your skin.
Helps anti-aging serums work better giving you faster results.
We offer four unique toners: Vitamin C Toner, Papaya Toner, Alpha-Hydroxy Toner, or Hydrating Toner. We are happy to select the best toner for you and feel confident you will find this step essential to your daily skincare routine. Call 817-924-8300 for assistance or visit our online store.