How to Get the Most from Your Cosmetics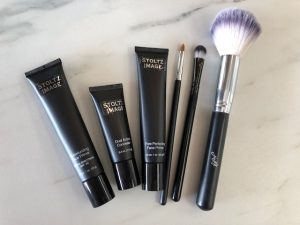 Now that you have your cosmetics specially selected for you that are flattering and appropriate for your face, you want your products to last as long as possible, considering the investment of time and money you've put into their selections. You may find you are running low on some of these products, so you believe it is time to reorder. Before doing that, try some of these tips to get the very last of your products to avoid waste and money.
Lipstick tubes have lots of lipstick below the rim of the tube. Use a lip brush to sweep out the remaining product. I keep my lipstick tubes that are low in my cosmetic drawer and carry ones in my purse that can still be rolled up.
Turn your bottles/containers upside down so that gravity can do its thing. That way the product can flow to the opening of the container making accessing it much easier. It works for night cream too.
The Retexturizing Face Primer wants to thicken as you get to the end. A client told me a secret she figured out. Continually massage the tube as you are using it and the primer stays more fluid. Try that with other products in tubes too. Face primer is a glue to hold on your foundation.
If your foundation seems to be too thick it is probably too cold. You can place the open bottle in the microwave for 4 seconds and then shake.
When applying foundation do not use a sponge. It absorbs much of the foundation. Use a foundation brush or your fingers and your foundation will last longer.
I see many ladies tap their powder or shadow brush to remove excess powder. If you do that, tap it over your powder jar or shadow container instead of the floor or counter top. After dabbing my powder brush in my powder I dab it in the powder jar lid to remove excess powder. Then I can turn the lip over into the powder jar.
Eyeliner will stay on longer if you use an eye primer that acts like a glue to hold them on. I apply my Shadow Base primer around the eye including through the lash line, wait a minute and then dab on concealer around eye to cover darkness. I avoid going near the lash line. Then I apply my gel eyeliner right on top of the Shadow Base through the lash line. It is there all day. You can do the same under the eye.
Shadows stay on longer when applied over the eye primer and concealer. Be sure to set the concealer with a matte light color eye shadow, even under the eye. I use Toast eye shadow.
Do not pump your mascara brush in and out of your mascara tube excessively. It will push air into the tube and dry the mascara faster.
Cut off the flat end of a product that is in a Products in tubes do not flow with gravity as easily as those in bottles. The most efficient way to get to the last of that product is to cut off the end of the tube to more easily squeeze out the remainder of the product.
Using unique tools to reach those hard to reach places to access the last of your product saves time and frustration. A concealer brush that can handle liquid products is a fabulous tool to sweep up the cream in a bottle or tube.
Also the Container Store offers a couple of products that are perfect for this:
https://www.containerstore.com/s?source=form&q=lip+spatula&refinements=&submit=
The Every Drop Makeup Spatula is pretty smart. It allows you to use every last bit of product in a jar or bottle – no shaking, tapping or rolling required. The long handle reaches the bottom of tall containers and the specially designed silicone spatula even reaches under the lip of the opening, ensuring you get your money's worth from every product in your cosmetics and skin care collection.
What a beautiful idea! The Every Drop Lip Spatula helps you truly enjoy your money's worth of lipstick, lip gloss and even concealer. The long, flexible handle reaches in every nook or cranny of a wide variety of cosmetics tubes so that you can use every last bit before you kiss it goodbye.