Mask Off
When it comes to your skin care routine, a woman just wants clear, soft, bright skin. One way to get there is a face mask. But who actually knows which face mask to choose and what different kinds of things you can accomplish by using different ones. I will attempt to define and categorize face masks and help you get the face you were born with back! How to use a face mask is simple. After you've washed your face, give your skin a quick couple minute breather, apply the face mask which will normally last anywhere from ten to twenty minutes, apply a serum (skin care routines can vary), and then your moisturizer. This will leave your face feeling hydrated and happy! To figure out what kind of face mask you should choose, keep reading…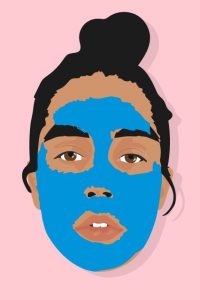 Charcoal Masks
If you have oily skin that's prone to breakouts, the charcoal mask or clay mask would be the one I suggest to you. Most clay masks have ingredients like sulfur, tea tree oil,  and charcoal that attack and bring out the impurities in your skin. This allows for a detoxifying cleanse that dries skin out in the process, so don't forget to use your moisturizer when you're done. This type of mask tricks your skin into plumping itself, while also soothing the redness away. Since most clay mask dry into a hard shell around your face in the duration of wearing it, don't rub it off. Use a warm, wet cloth to remove the excess mask.
Gel Masks
Gel masks are the ultimate relaxation key, especially for sensitive or dry skin. You can get gel masks for your face, as well as your eyes. These masks are super light and cool that help remove the dark circles under your eyes and  puffiness, as well as cooling down and soothing the skin which reduces swell and redness. This mask is great for relieving sinus pressure and elevating migraines. Not only do gel masks do all of the above, most of them include collagen and multiple antioxidants that help the skin with recovery and supreme hydration.
Sheet Masks
Sheet masks are pretty much for all types of skin, based on the different one you use. Each contain different formulas and ingredients that do different things. Sheet masks are good to use before applying your makeup, because it will relax and hydrate the skin beforehand and leave it looking younger, tighter, and less lines. There are sheet masks for everything from rejuvenation, hydration, brightening, detoxifying, stress relief, glow boosting, eye masks, calming, and more.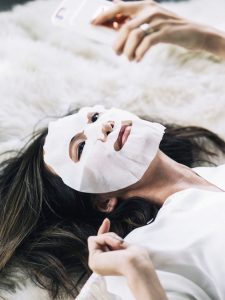 Exfoliating Masks
Most skin types like exfoliating masks because it removes dead skin cells from the top layer of the face which leaves the skin glowing and brighter. Since it's taking away the debris from your face it gives that illusion you just sat on a beach for a week. Super great after taking your makeup off after a long day. The ideal exfoliating mask will tighten and brighten, alleviate acne and blemishes, remove oil, while also melting away debris.
Cream Masks
Cream masks are good for normal to dry skin, this is because most cream masks a heavy amount of moisturizers that will repair the skin for ultimate hydration. Not only do cream masks hydrate, the plump and brighten the skin for the perfect glowing face!
Photos taken from Pinterest.