Shoe Business
This is an exciting time to be wearing shoes. Why? Because there is more technology being applied to the shoe business then ever before. You can get high performance combined with fashionable shoes, a combo that wasn't available twenty years ago.
A shoe revolution is under foot. Sneakers are such a huge part of fashion right now. Once only worn in the summer time running around with kids, now you see sneakers on red carpets paired with formal wear or worn with classic trousers and dressed up jeans.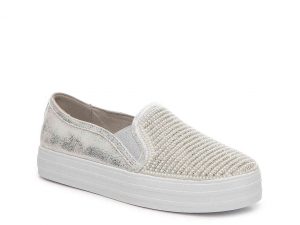 Skechers Embellished Slip-On Sneakers
Q: When is the right time to get rid of a pair?
A: If a worn shoe is not repairable or if it's sorely out of date and you're not wearing it anyway, it's time to let go. Examine your shoes inside and out for signs of wear. If a shoe has lost its ability to support your foot adequately, you could be harming your feet. You need your feet to last forever so be mindful how you're adorning them.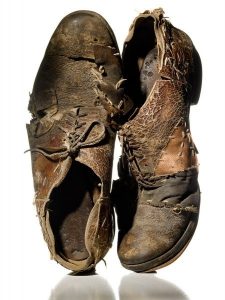 Q: When is a shoe too dressy?
A: Almost never. You may have a pair of tailored shoes that worked perfectly with your business suits, but you no longer wear those suits. Take those shoes and wear them with jeans for a fun way to kick up your casual look a notch.
Q: When do you need to see the shoe doctor?
A: Stay on top of your heel tips. Make sure to replace the tips on your favorite heels before they go too far. If the heel tip gets worn down to the metal, it can make a loud clicking noise when walking on it and damage hardwood floors.
Q: When do you use a suede brush?
A: You use a suede brush to clean your suede shoes. Caution: Know where your suede brush has been last. If it was used on a black shoe, don't use that same brush to clean your blush-colored suede shoe next. Consider purchasing another suede brush just for your light-colored suede shoes.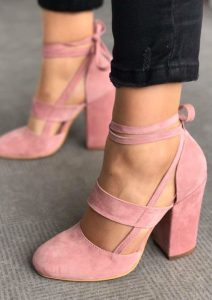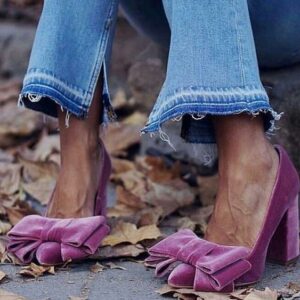 Q: When is the right time to wear your newly purchased shoes?
A: Before stepping out into the world with your brand new shoes, spend a couple of hours in your home wearing them. This way you ensure they are comfortable for longer than those five minutes you spent trying them on. Most shoe stores will take shoes back if they haven't been worn outside. Shoes are an investment. This practice is an insurance policy for you so you'll never have regrets about a shoe you purchased.
Q: When is it okay to impulse-buy shoes?
A: Shoes are very visual and enticing. It's easy to fall in love with a new pair of shoes. But before you purchase, see if you can answer yes to these three Cs: They're cute (attractive), comfy, and currently relating to your lifestyle activities. If you can only tolerate being in them for five minutes, they aren't worth purchasing.
Try not to impulse buy your shoes!
Q: When do you say no to your dream shoes?
A: If your feet have changed, as they will, you may be lamenting that you can't wear your dream shoes anymore. It's best to accept reality and focus on other ways to bring excitement to your wardrobe. Focus on accessories that suit your personality and bring attention to your face. This will help you fill the void.
Q: When do you replace a shoe style that isn't working?
A: Now. If you can no longer wear a pointy heel, swap it out for a block heel. If heeled boots are not working for you, swap them for a flat boot style. If super-flat flats are giving you a problem, find a flat with more of an arch support. There are great alternatives out there that can keep your feet happy.
If finding the right footwear is giving you headaches and foot aches, let me help. I know about great brands that are functional, fashionable and flattering. Let's work on your shoe solutions! Give me a call; I'm here to help!