Tips for Bridging the Transition Fashion Gap
Have you had this happen? The calendar month implies cold weather is upon us but when you look at the temperature gauge, it says, "Not so fast!" Waiting for the weather to match the season implies a need for fashion patience but that tank could already be empty! Whether it's spring but it still feels like winter or it's fall and it still feels like summer, when the weather isn't in synch with the season, it can bring challenges to getting dressed.
Here are some tips for getting through a warm fall even while you're itching to be wearing layers of wool.
1. Look through your summer print dresses. Do any of them have a dark background like black, olive, or charcoal? If so, use the dress as a layering piece over a white short-sleeved T-shirt. The dark background in the print of the dress is what calls out fall, rather than summer. Make your point really clear by pairing the dress with a short ankle boot instead of a sandal.
2. Pull out your perforated booties or go out and buy a pair. They are perfect for right now! The bootie style says fall while the perforation is sensitive to your need for more air circulation while still being barefoot.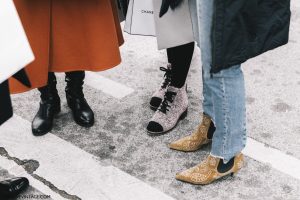 3. Wear a sweater in a silk blend. It's a great idea to have a handful of knit sweaters in silk blends to help you with transition dressing. A silk/cotton blend or a silk/cashmere blend sweater is still very lightweight. The fine finish of silk makes this an easier sweater to pair with your skirts, pants, or jeans. It's more refined than your open weave bulky white cotton knit sweater that you wore all summer with flip flops.
4. Make use of darker neutral colored pants. Reach for the loose fitting pants you wore in summer that are in black, dark khaki, rust, pumpkin, or deep berry tones. They'll still be cool to wear while blending into the color palette of fall.
5. Wear scarves in darker patterns. Nothing says fall like plaid, paisley, and houndstooth. Go through your scarf collection and isolate the ones that look more like fall than summer. A scarf in a fall pattern can add interest to an outfit but still be lightweight if it's in cotton, silk or a blend.
6. Pull out your fall belts. If you belt your jeans, pants, or dresses, put away the canvas or rope belts and start wearing the belts you enjoy in fall. Those richer warm tones like whiskey, cognac, or brandy in leather or faux leather will match the colors of the season.
7. Wear white. Surprised? White can still live in your wardrobe but it's best to set aside clothes in white linen. Wear a white cotton blouse instead of a white linen one. Wear your white jeans but wear one of fall's colors on the top. Keep wearing your white sneakers. They will be just fine moving into fall.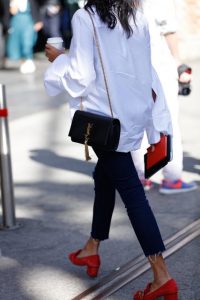 8. Darken your denim. The super light colored denim jeans that you wore in the summer with soft pastel colored tops can be swapped out for a medium or dark wash denim. Darker cropped jeans are still okay to wear. Team them with those perforated booties and show some ankle. Favor your medium to dark jean jackets as well.
Do you need help sorting out how to dress for this transitional season? I am more than happy to help! Give me a call and we'll set up an appointment right away.