Mixing Feminine and Masculine Elements to Create Great Style
As you put together outfits this season, there's a whole category of pieces that come from a source you may have not explored yet: menswear. If you've watched movies from the 1940s or 1950s you may have seen your favorite actresses dressed in oversized blazers, pleated trousers, white Oxford shirts, or brogue shoes. And they looked glamorous!
There's nothing like a piece of menswear-inspired clothing to make getting dressed even more fun for women.
This season there are lots of choices and I'm here to help you figure out what's best for you.
So many pieces are inspired by fine men's wear. Think about what you already have in the list below:
A man's watch
An oversized blazer
A boyfriend sweater
Trousers
White shirts
Motorcycle jackets or bomber jackets
Trench coat
For fun, comb a men's department for accessories.  Many stylists have typically shopped the men's department for scarves, hats, belts, pocket squares and watches for their female clients. What do you already have in your closet that adds a fun look, inspired by men's fashion?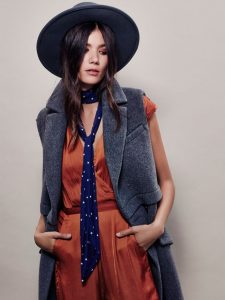 Images: Pinterest, Vogue