Ten Tips for Embracing the Menswear Look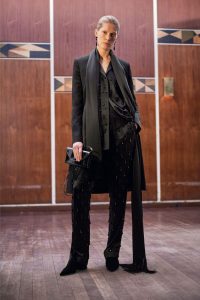 For years designers of women's fashion have had a love affair with the menswear look. Nothing's more striking than seeing a woman wearing an outfit like a traditional print shirt tucked into a fluid trouser pant with pretty pumps. Remember old movies where the likes of Lauren Bacall or Katherine Hepburn were in men's suits? They looked stunning! Wearing a boyfriend jacket, a loose pullover sweater or a trench coat can be really sexy.
There are a couple of ways to play this. Bringing a masculine element into a woman's outfit can enhance her femininity. Plus, current designers are offering gender-neutral fashion. Whether you want to add just a hint of masculine detailing to your look or make your whole look menswear-inspired, here are ten ways to do it.
A menswear inspired shoe can be very comfortable and fashionable! Choose to wear lace up shoes like oxfords or brogues, a monk strap shoe or loafers. These styles are great worn with skirts, dresses, ankle pants, and straight or skinny jeans.
An oversized white menswear tailored shirt (it can come from the women's department) looks great with a boldly printed pant. A fanciful pant in a geometric print, plaid, floral, paisley, or brocade is enhanced by the simplicity of the white shirt. How's that for easy dressing?
A camel trouser pant is the perfect base for a tucked in feminine silk blouse, a T-shirt with writing on it, or a simple pullover sweater. Layered necklaces or bracelets finish the outfit.
Men's watches are a preferred look by many women these days. Duck into the men's departments and look for distinctive watches. This can be a signature accessory for you. Wear it to work or wear it on the weekends during family fun activities.
Hats are both functional and fashionable. Wear your hair up or down in a fedora or a derby hat, or a beret for instant distinction. They're great for keeping your head warm or as a cover up for a bad hair day!
Menswear jackets are an easy third piece to wear over dresses, skirts, or tops and pants. A boyfriend jacket is oversized and slouchy. A bomber jacket has ribbing at the cuffs and bottom edge. A motorcycle jacket can look edgy and fun.
When it comes to cardigans, there's nothing like a cozy Grandpa-style cardigan sweater. Look for one with a shawl collar and leather covered buttons. Add it to a checked or plaid shirt or a simple T-shirt, belt it and wear it with slim wool pants, jeans, or trousers for an accessible look.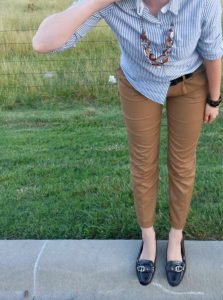 Simple pullover sweaters in classic colors like camel, navy, or charcoal can be workhorses in your wardrobe. A cable knit sweater is another strong menswear-influenced choice. This can be a perfect choice to wear over printed skirts and dresses. Layer one over a floral print shirt so the print of the collar and cuffs peek out.
A velvet blazer brings up images of men in parlor rooms smoking their cigars after dinner. Velvet pieces are easy to find this year and a blazer will be striking and chic worn with blouses, shirts or T-shirts. It can be casual with jeans or elegant with silk pants for a formal event.
A tuxedo pant is classic and charming on a woman. Go with traditional colors or find one with a pop of color. Wearing it in a formal setting is fine but how about making it casual by teaming it with an oversized sweater, a jean jacket, and a loafer.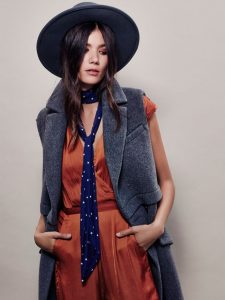 I'm excited to help you put together your unique look this season with menswear-inspired pieces. The possibilities are endless. Let's make an appointment!
image@stoltzimage.com
817-924-8300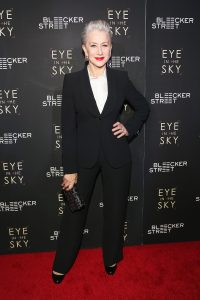 Photos courtesy of: Pinterest
http://www.vogue.com/fashion-shows/pre-fall-2017/givenchy/slideshow/collection#9